About us
Welcome to Irelandstats.com, the one stop internet resource for most comprehensive and useful data about social and public life in Ireland. We are constantly updating the website to provide you with most current and accurate statistics for such areas as Education, Healthcare, Public Transportation, Environment, Economy and more. Whatever information you are looking for, you will find it here, brought to you in a unique, transparent and user-friendly form.
Latest articles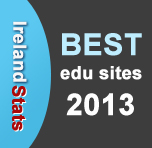 Stay tuned as we will soon publish a list of Top10 educational websites in Ireland that met the criteria mentioned in the article best and outrank others or, even better, are a perfect combination of all those elements.
Newest research has shown that a quarter of young Irish, age nine to sixteen, experience some form of bullying.The alarming fact is that the level of harassment in Irish schools is above the EU average.
Recent surveys made by An Irish Primary Principals' Network (IPPN) revealed that up to half of primary principals in Ireland has some work-related health issues and admits they are on medication.